ScienceOpen's Monthly Digest – January 2022
Welcome to ScienceOpen's monthly digest, where we provide you with the most recent updates on new publishers and journals that have joined our platform, as well as brand new collections that may support researchers and editors in their scientific work.
Our Collections continue expanding!
Let us introduce you to the most recent journals hosted by ScienceOpen. Our services include hosting for journals, conference proceedings, or books in an interactive environment with cutting-edge SEO, long-term archiving with CLOCKSS or Portico, and integration with ORCID, Crossref, and other organizations.
Welcoming Acta Materia Medica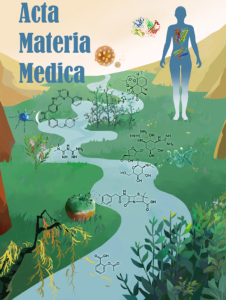 ScienceOpen is pleased to welcome Acta Materia Medica as the newest journal to our platform. This journal is published by our partner Compuscript, and its collection on ScienceOpen will add valuable open access research in the field of pharmacy and pharmaceutical sciences.
AMM is a gold open-access journal that was founded in 2021. Its publications include research and review articles, commentaries, editorials, case reports, and study protocols in a variety of pharmaceutical sciences fields, including but not limited to pharmacology, toxicology, natural products, pharmacokinetics, clinical pharmacy, pharmacoepidemiology, pharmacoeconomics, and pharmacy management.
You can help us extend a warm welcome to AMM by following their collection to receive the most recent updates, and by using our tools to recommend, conduct post-publication open peer reviews of their latest articles. and to share on social media, including Weibo for our Chinese audiences.
Acta Materia Medica subscribes fully to the COPE code of conduct and best practice for journal editors ensuring that our editors are accountable for everything published in our journal. Our readers will always be informed about how the research is funded and our relationships with authors, reviewers, and editorial board members will be influenced by COPE recommendations.

Acta Materia Medica
Read their first publications directly on ScienceOpen:
More research available on ScienceOpen
ScienceOpen currently has 75 million records in its database, with new publications being added on a daily basis. We want to make science communication easier by providing a full suite of analytical features and promotion tools that our editors, authors, and all registered users can use.
Some of the most recent journals added to ScienceOpen are listed below.
Technology, Mind, and Behavior by APA
We started 2022 by announcing Technology, Mind, and Behavior by APA as our most recent addition. We are very glad that TMB has joined Science Open and would like to share once more their original and innovative research work in the area of human-technology interaction, with a focus on human behavior at the individual or group level.
Top Picks from the Editors:
ScienceOpen is proud to be able to support APA's mission of providing interdisciplinary, peer-reviewed research in the field of psychology by helping disseminate Technology, Mind, and Behavior to a wider audience. Through this partnership, we hope to help APA expand their open access portfolio and look forward to working with them in the future.
Sucht – The latest addition on our Hogrefe collection
The collaboration between ScienceOpen and Hogrefe, a major scientific publisher on mental health, represents a significant contribution not only to the scientific field of psychology and psychiatry but also to raising social awareness about relevant psychological issues that go unnoticed or are inadequately addressed in society.
Hogrefe's collection includes high-quality, peer-reviewed articles in English and German that cover a wide range of topics in psychology and psychiatry and help readers gain a better understanding of people as psychosocial individuals.
Sucht: Interdisciplinary Journal of Addiction Research is the latest addition to this collection, with an international focus on the presentation of high-quality and innovative scientific and clinical communications in the field of addiction research, both in German and English.
Sucht is one of the oldest addiction research journals, having been founded in 1891. The interest in and promotion of interdisciplinary work in the field of addiction research, as well as the promotion of dialogue between specialist disciplines and between research and practice and/or politics, are distinguishing features. Particular attention is paid to controversial issues. The journal publishes original research articles, case reports, and reviews.
Their collection includes titles like:
Chinese Journal of General Practice
Another great addition to our platform is the open-access Chinese Journal of General Practice. Founded in 2003, CJGP is a peer-reviewed academic journal sponsored by the Chinese Preventive Medicine Association and overseen by the People's Republic of China's National Health Commission.
This journal, hosted by Compuscript, aims to publicize general practice knowledge, disseminate general practice skills, methods, and concepts, expand research fields, and introduce research and academic achievements. It also aims to improve academic exchanges by covering a wide range of general medicine and public health topics.
CJGP is a valuable source of information for health-related research, as well as a contributor to the advancement of international general practice disciplines.
"We are very happy to cooperate with ScienceOpen. ScienceOpen provides an authoritative and convenient platform for academic journals to improve their international discovery. We look forward to gradually expanding the international impact of our journal and seeking more international research cooperation based on ScienceOpen's platform and providing better academic services for the development of international general practice disciplines and academic exchanges among relevant researchers."

President of Chinese Journal of General Practice Kaidi Chen
Follow their collection and get the latest updates from the general practice research field:
By being indexed on ScienceOpen, authors published in these journals will be able to enhance their article records by linking them to their ORCID id and adding metadata such as keywords, thumbnail image, and author summary to make their records more discoverable.
Other News from ScienceOpen
We had a tour around the world this January, with an overview of our diverse collections and the impact that they have in different countries around the world.
ScienceOpen's #WorkInPublishing

ScienceOpen provides cutting-edge technology as well as a variety of publishing solutions and services to institutions, independent publishers, university presses, and researchers. Today we highlight developments and products of our platform, which is supported by specialists with distinguished academic careers and publishers from all over the world who have trusted ScienceOpen with their #WorkInPublishing.

University Presses on ScienceOpen

ScienceOpen has a lot to offer university publishers, in addition to an ever-expanding portfolio of services.
On January 27th, we held a Zoom Webinar to go over the How To's of reviewing scientific articles and books on ScienceOpen. The webinar video will be posted soon on our YouTube account for all of our users who were unable to attend on Thursday. Also, while you're there, make sure to subscribe to us on YouTube.
Follow us on Twitter @Science_Open to stay up to date on news, announcements, and new content by Science Open!