New collections by Westminster Press: Deliberate Democracy and Active Travel Studies
More open access content by UWP
We are delighted to announce the addition of two new open access journals from the University of Westminster Press to UWP's Super Collection, which will add more high-quality open access content in social sciences, democracy studies, and active travel research to our discovery network.
The University of Westminster Press is a digital-first open access publisher that focuses on the social sciences, humanities, and environmental studies across its range of books and journals, with publications focusing on areas that reflect the University of Westminster's teaching and research strengths.
University of Westminster Press is offering an excellent service to the academic community, and we are proud to support them in their mission.

Stephanie Dawson, CEO of ScienceOpen
ScienceOpen Collections are thematic groups of research papers drawn from a variety of journals or publishers. In the case of the University of Westminster Press, the UWP super collection combines six individual journal collections.
Let's take a look at the two new journals together.
Active Travel Studies
The Journal of Active Travel Studies bridges the gap between academia and practice through high academic standards and practitioner accessibility. Active Travel Studies is open access, peer-reviewed journal that disseminates authoritative research on walking, cycling, and other forms of travel. This journal is relevant and timely in the context of the climate emergency, widespread health problems associated with inactivity, and poor air quality caused in large part by fossil-fuel transportation.
Active Travel Studies will provide practitioners and policymakers with access to current and robust findings on all topics related to active travel, in addition to informing the research agenda.
The journal commissions both commentary pieces and critical reviews of existing literature on such research. Its content is diverse, reflecting the audience's diversity, and includes written work of various lengths as well as audio-visual material.
Highlighted Titles:
Journal of Deliberate Democracy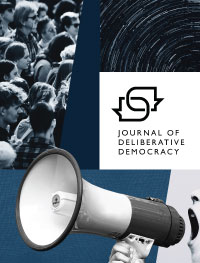 The Journal of Deliberate Democracy publishes articles that influence the direction of deliberative democracy scholarship. It is a forum for new ideas, emerging debates, alternative perspectives, and critical perspectives on deliberation. Submissions from all theoretical and methodological traditions are welcome, as it aspires to be a knowledge facilitating platform for scholars and practitioners of citizen engagement.
The newDemocracy Foundation, the Deliberative Democracy Consortium, and the International Association for Public Participation are all sponsors of the journal.
This journal provides immediate open access to its content on the premise that making research freely available to the public promotes greater global knowledge exchange.
Discovering some of the articles:
Get in touch!
UWP's collections add high-quality research titles to ScienceOpen's humanities and social sciences content. Hundreds of books, articles, and reviews are now available in its book and journal collections.
ScienceOpen provides university presses, digital libraries, and research institutions with innovative services that are tailored to their needs. Learn more about the University Presses that are currently using ScienceOpen's discovery network, and contact Stephanie Dawson if you have any questions about our publishing solutions.